Beyond the Round Pen
---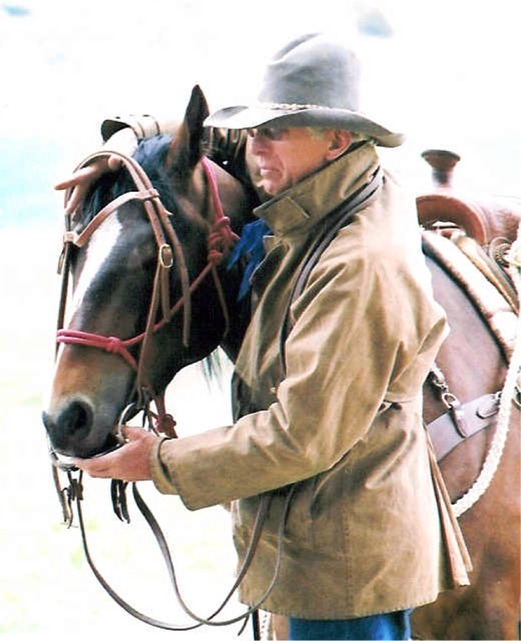 Beyond the Round Pen targets a pressing need. Many clinicians address colt starting and developing a relationship with your horse, but few address basic horsemanship and the skills necessary for staying safe with your horse in the backcountry. This two-day course prepares horses and riders for advanced trail and backcountry challenges. Subjects include survival horsemanship, handling trail obstacles, leg cues, the essential neck rein, improving the walk, carrying gear on your saddle horse in a safe manner, a packing primer, safe hunting on horseback, ponying other horses, exposure to cattle, and horse restraint in the backcountry. Only mornings are spent in the arena. Afternoon instruction is in the backcountry on our 1200 acre ranch. (Limit of 10 participants)
A new book based on the clinic (with the same title) will be released by Skyhorse Publishing in July 2018 and will be available to clinic participants.
---
Fee Schedule (identical for all clinics):
Clinic fee $350 per person—Clinic fee includes all meals from Saturday morning through Sunday noon.
Horse Stall/Pen—no charge. Hay, if needed, available at $5.00 per day.
Lodging—Limited lodging available on the ranch in the Johnson Place Guest House or The Bunkhouse.
Trailer Parking—Staying in trailers at the arena is permitted. Limited water and electricity hookups (no AC) $35 per night per trailer.
Deposit of $100 per person is required to hold your place. Deposit is non-refundable unless clinic is cancelled.
---
The Instructors
| | |
| --- | --- |
| <![if !vml]><![endif]> | Dan Aadland, Ph.D., is a lifelong horseman, rancher, and writer.  Author of ten books (including The Complete Trail Horse) and many magazine articles for equine and outdoor publications, Dan taught English on high school and college levels while developing, with his wife Emily, a Tennessee Walking Horse breeding and training facility on the ranch that's been in Emily's family for more than a century. A proponent of the multi-skilled backcountry horse, Dan has also been a work horse teamster since logging in the 1980's with Big Jim, his Belgian stallion.  His interest in draft animals continues, and he's currently working with two young mules to develop them as a team. |
| | Emily Aadland, rancher and retired teacher, grew up on the land we now occupy and became comfortable in the saddle as a small girl. She helped her dad with the many tasks involving horses and soon was trusted with a spirited, gaited ranch horse named Brownie on which she moved cattle, helped her father tend irrigation sets, and checked the range to see that the bulls were home. Emily assists Dan not only as clinic cook but as an instructional resource with a lifetime of ranch horse experience. |
| | Jennifer Franco grew up with horses in Montana, studied in the equestrian program at Northwest Community College in Powell, Wyoming and in Tennessee, trains barrel horses, and has a wonderful feel for gait. Her touch as a trainer is gentle-but-firm. Jennifer has been with Absaroka Tennessee Walking horses since 2010 and has trained dozens of our young horses and several of our gaited mules. |
| <![if !vml]><![endif]> | Logan Gehlhausen is a backcountry horseman and trainer with a wealth of experience starting colts and packing into Wyoming wilderness.  Logan assists on a time-available basis, lending his considerable expertise and providing one-on-one instruction. |